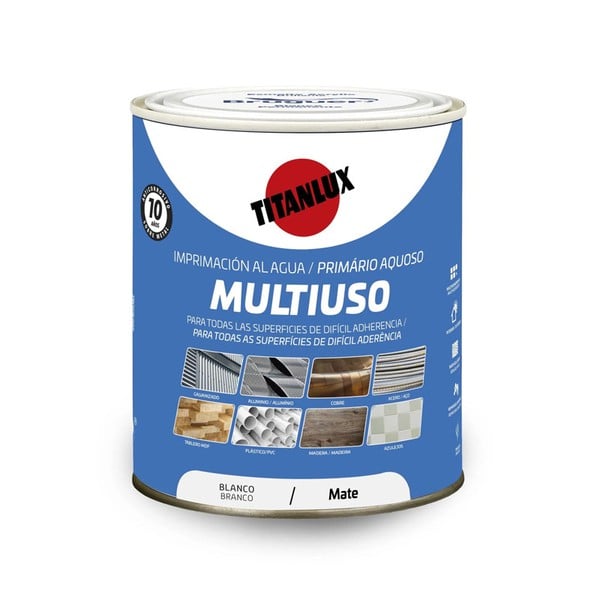 Multi-Purpose Water-based Primer Multiuso Agua TITAN
Protection against rust on iron surfaces
Quick-drying
Excellent sealer for wood and MDF
Good sealer for stains
Delivery at your place
Order phone number 210 008 5999
Anticorrosive quick-drying water-based primer for all kinds of surfaces. Excellent adhesion primer coat for a great variety of previously painted or bare surfaces.
Total guarantee against corrosion (according to UNE EN ISO 9227), as certified by external laboratory test.
Fields of Application
Protection against rust on iron surfaces. Adhesion primer for surfaces such as: galvanised (zinc plating), aluminium, steel, brass, copper, hard PVC, methacrylate, expanded polyurethane, melamine and tile. Excellent sealer for wood and MDF, for obtaining lacquered finishes.
Good sealer for stains on walls and ceilings indoors. It fixes the stains and prevents them from migrating to the top coat surface. Effective treatment for stains of markers, pencils, coffee, grease and nicotine.
DRYING:30 - 60 minutes
APPLICATION METHODS: Brush, roller and spray-gun
Finish:Matt