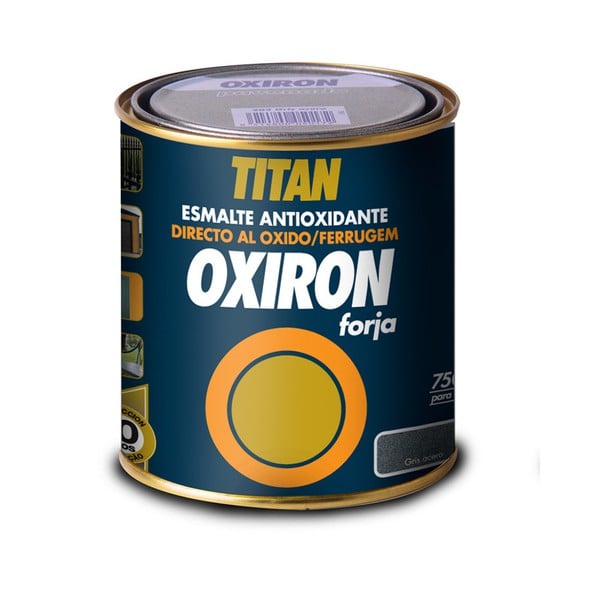 Anticorrosive paint Oxiron Forja TITAN
Direct application, no primer is needed
High adhesion
High elasticity and weathering resistance
Excellent protection and decoration for any kind of iron surface
provides a natural metallic finish (wrought-like)
Delivery at your place
Order phone number 210 008 5999
Metallic paint with high solid content. Direct application, no primer is needed. High adhesion. High elasticity and weathering resistance. Excellent protection and decoration for any kind of iron surface to which it provides a natural metallic finish (wrought-like). Excellent application by brush and roller. Long open time, which allows easy retouching. Intermixable highly lightfast colours.
DRYING:4 - 5 hours
APPLICATION METHODS: Brush, roller and spray-gun
PRESENTATION:4 l, 750 ml and 375 ml.
FINISH:Metallic. Wrought finish
Thoroughly stir the contents in the can before and while using. The surfaces to be painted have to be dry and free from any dirt, grease, poorly adhered rust particles and low quality old paints.
BARE SURFACES:
Steel or Iron:It can be directly applied. No primer needed. If the surface shows rust, lightly sand in order to roughen the surface. Remove poorly adhered rust. In environments with medium-high corrosion, steel has to be sanded up to ST-3 of the UNE EN ISO 8501-1 standard. Under these conditions, a minimum thickness of 140 microns (3 dry coats) will be required.
Zinc, tin, galvanized: surfaces: Sand to matt and apply TITAN Multi-Purpose Primer.
Wood: TITAN Protector, TITAN Sealing Primer or TITAN Multi-Purpose Primer.
MAINTENANCE OF PREVIOUSLY COATED SURFACES IN GOOD CONDITION:
Wash with soapy water, let to dry, lightly sand and directly apply Wrought Finish OXIRON.
MAINTENANCE OF PREVIOUSLY COATED SURFACES IN POOR CONDITION:
Thoroughly remove rust and poorly adhered previous coats by means of sandpaper or a metallic brush. For topcoats, proceed
as for bare surfaces.