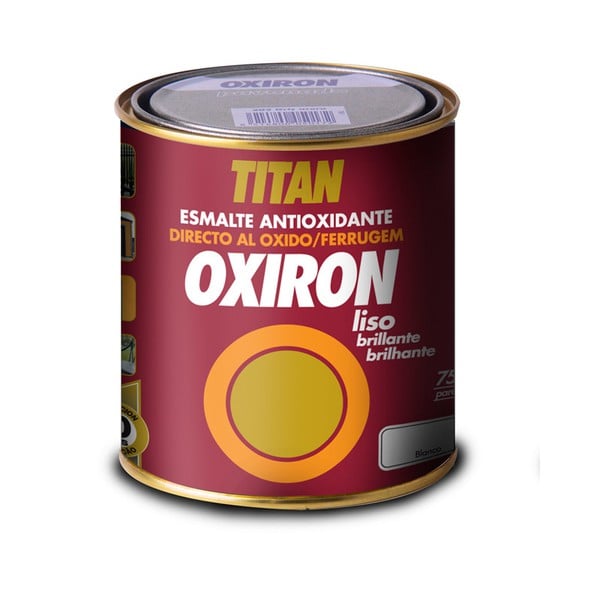 Antirust Paint Smooth Gloss Oxiron Liso TITAN
Quick drying rustproof enamel-paint
Direct application on steel
No primer is needed
It provides up 10 years weathering resistance and a high gloss finish
High adhesion / Hardwearing
Resistant to impact and scratches.
Delivery at your place
Order phone number 210 008 5999
Oxiron Liso by Titan is an anticorrosive paint with a smooth gloss effect and high resistance to corrosion, physical damage, weather, oily stains and cleaners. Ideal for metal surfaces in seaside environment.Oxiron Liso can be applied directly onto metal surfaces without primer. It is waterproof and high gloss for a long time. Dries quickly to allow the completion of the paint in just 1 day.It has excellent adhesion to a variety of surfaces and ensures protection of 10 years.
For indoor and outdoor use.
Suitable for doors, benches, electrical appliances, shutters, garden furniture, especially for objects exposed to wear and weathering.
The use of Smooth OXIRON allows saving time because overcoating is possible after one hour and, in this way, most paint works can be finished in one single day.
DRYING:30 - 60 minutes
APPLICATION METHODS: Brush, roller and spray-gun
PRESENTATION:4 l, 750 ml and 375 ml.
FINISH:Gloss
Recoat time at 23ºC 60% HR
Minimum: 30 minutes. Maximum: 4 hours or after 5 days
Fields of Application; Brush, roller and spray-gun
Thinner: TITAN MR Thinner
GENERAL REMARKS:
The surfaces to be painted have to be dry and free from any dirt, grease, poorly adhered rust particles and low quality old paints.
It is important to keep the overcoating time if a high quality finish is required. Every following coat has to be applied by the next 4 hours. If this time is exceeded, wait 5 days. If this is overcoating requirement is not fulfilled, the applied surface may show creasing. In case of application by spray-gun, the following coats can be applied after 15 - 30 minutes.
BARE SURFACES:
Steel or Iron: It can be directly applied. No primer needed. If the surface shows rust, lightly sand in order to roughen the surface. Remove poorly adhered rust. In environments with medium-high corrosion, steel has to be sanded up to ST-3 of the UNE EN ISO 8501-1 standard. Under these conditions, a minimum thickness of 140 microns (3 dry coats) will be required.
Zinc, tin, galvanized: surfaces: Sand to matt and apply TITAN Multi-Purpose Primer.
Wood: TITAN Protector, TITAN Sealing Primer or TITAN Multi-Purpose Primer.

MAINTENANCE OF PREVIOUSLY COATED SURFACES IN GOOD CONDITION:
Wash with soapy water, let to dry, lightly sand and directly apply Smooth OXIRON.
MAINTENANCE OF PREVIOUSLY COATED SURFACES IN POOR CONDITION:
Thoroughly remove rust and poorly adhered previous coats by means of sandpaper or a metallic brush. For topcoats, proceed as for bare surfaces.