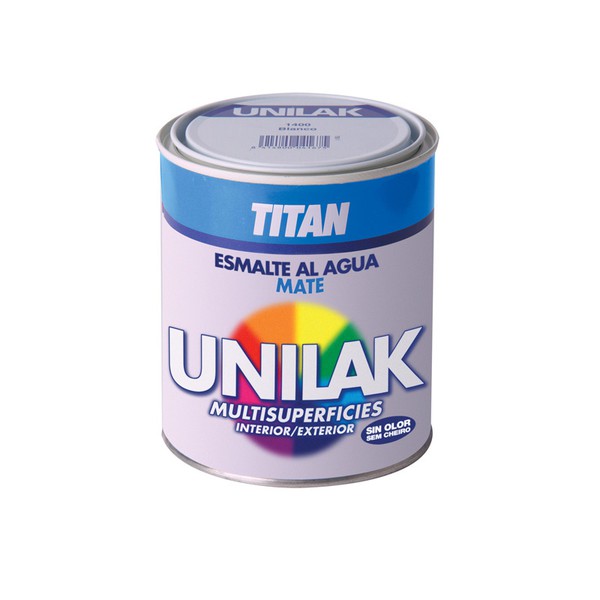 TITAN Unilak Universal Enamel Matt
Elastic
Suitable for any kind and shape of materials
Very easy application on any kind of surface
Good obliteration
Good resistance to mar and washes
Delivery at your place
Order phone number 210 008 5999
Matt water-based high adhesion enamel. Very easy application on any kind of surface. Elastic. Suitable for any kind and shape of materials. Once applied, it makes a film which protects the coated items from moist and external agents.Good obliteration. Good resistance to mar and washes. It contains anti-mould preservative.
It adheres to wood, cork, zinc, primed steel, copper, tin, fibro-cement, brick, stone, concrete, plaster, roughcast, poroustile, expanded polystyrene, hard PVC, methacrylate, synthetic and cotton fibre, canvas fabric, etc. In view of the wide variety of possible surfaces, a previous test is recommended.
Writing board effect for soft chalk. Hard chalk (also known as anti dust) may scratch the surface.

Fields of Application
Very suitable to paint walls and kitchen and bathroom doors, heating radiators, indoor and outdoor furniture, rigid PVC pipes
and suitably primed steel structures.
DRYING:1 - 2 hours
APPLICATION METHODS: Brush, roller and spray-gun
PRESENTATION:750 ml and 375 ml
FINISH:Matt
GENERAL REMARKS:
Thoroughly stir the contents in the pack. The surfaces to be painted have to be clean, dry and suitably primed. Remove all existing rests of dirt, grease, poorly adhered rust and previous coatings by using thinner or paint stripper, depending on requirements.
Wait at least 5 days before using the painted surface as a writing board.
BARE SURFACES:
Wood: Sand following the wood grain, thoroughly clean the surface, remove all resins or resin secretion and smooth up sharp edges. Apply a base-coat of TITANXYL Water Based Lasur Undercoat or TITAN Sealing-Primer depending on requirements.
Iron: TITAN Water Based Multi Purpose Primer. For outdoor surfaces, at least two coats of primer will be needed. For indoor
surfaces, one coat will be enough.
Porous tile, hard PVC, expanded polystyrene, methacrylate, copper, tin and cork: Directly apply one or two coats of UNILAK
In all cases for:
Indoor surfaces: Finish with 1 or 2 full coats of UNILAK Enamel. Avoid excess brushing or rolling.
Outdoor surfaces: Finish with 2 or 3 coats of UNILAK Enamel. Avoid excess brushing or rolling.
Writing board effect. It is very important to prepare the surface with A18 Water-based Sealing Primer and apply 2 paint coats. The coat thickness has to be according to the above-mentioned coverage rate. The best cleaning performance (writing board effect) will be achieved 1 week after having applied the second coat.
MAINTENANCE OF PREVIOUSLY COATED SURFACES IN GOOD CONDITION:
Wash, lightly sand and directly apply 1 or 2 coats of UNILAK.
MAINTENANCE OF PREVIOUSLY COATED SURFACES IN POOR CONDITION:
Completely remove all previous coats and proceed as for bare surfaces.