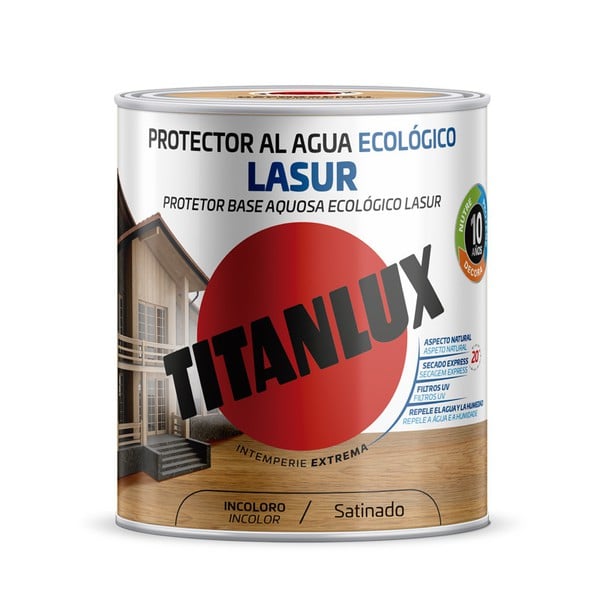 Titanxyl Water-based Lasur Colour
Water repellent
Quick-drying
High resistance to outdoor conditions and to the destructive action of sun radiation
Delivery at your place
Order phone number 210 008 5999
It is the ideal treatment for the comprehensive protection of wood,. Water repellent. Quick-drying. High resistance to outdoor conditions and to the destructive action of sun radiation.
Transparent intermixable colours which allow to see the natural appearance of wood, enhancing its beauty. Because of its micro-porous structure, it does not form any film on the surface, allowing the passage of water vapour between the inside and outside of the wood and avoiding that the surface cracks or flakes, and thus avoiding sanding.
Fields of Application
Indoors and Outdoors. For the protection and decoration of windows, doors, beams, banisters and overhangs in wood protection and maintenance of all kinds of wood structures.
DRYING:1 - 2 hours
APPLICATION METHODS: Brush, roller and spray-gun
Finish:Satin
Carefully stir in the can. Apply without thinning and following the wood grain. The wood to be treated has to be clean, dry and free of any coat of varnish or paint so as to assist TITANXYL in impregnating them fully.
Resinous or tropical wood: Please refer to the Technical Service.
The Clear Lasur, without colour coats below, is only suitable for indoor or outdoor use when not exposed to weathering.
BARE SURFACES:
New wood: If fungicide or insecticide protection is needed, previously apply TITANXYL Total Protection 3.
Indoors: 2 coats of Water-Based Satin TITANXYL Lasur Colour.
Outdoors: One coat of Water-Based TITANXYL Undercoat and 2 coats of Water-Based Satin TITANXYL Lasur Colour.
Old unvarnished wood: It is essential to entirely remove the dried out, greyed surface by sanding or surfacing thoroughly until the wood in good condition is exposed. Then treat like new wood.
Wood previously treated with lasur: Remove dust and apply Water-Based Satin TITANXYL Lasur Colour. Deeper shades are obtained if a further coat of the previously used colour is applied. Carry out maintenance when you begin to see bare wood, owing to the self-controlled wear effect of TITANXYL.
MAINTENANCE OF PREVIOUSLY COATED SURFACES IN GOOD CONDITION:
Previously varnished wood: Remove the existing coats entirely with TITAN Plus Paint Stripper and proceed as on new wood,.