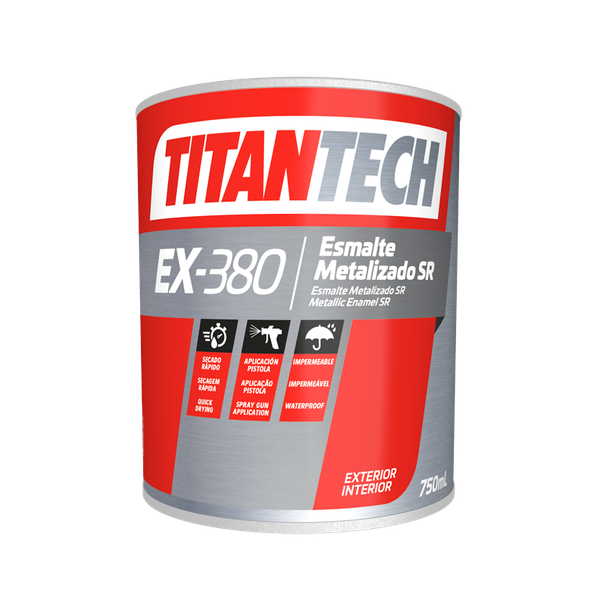 Metallized Enamel Gloss Metallic 818 TITAN
Gloss metallic finish
Wash resistant
Waterproof
Delivery at your place
Order phone number 210 008 5999
Base to be tinted with TITAN Servicolor System. Metallized quick-drying gloss enamel with long-lasting decorative finish. Wash resistant. Waterproof.
Fields of Application:
Ideal for fences, radiators, benches, electrical appliances, etc
DRYING:1 hour
APPLICATION METHODS: Brush and Roller (Only for patching) Spray-Gun (Data only for guidance)
Finish:Gloss metallic
Carefully stir the contents in the pack. The surfaces to be painted have to be clean, dry and sound.

BARE SURFACES:
Steel: Previously apply one of the primers of our alkyd range, following directions for use and keeping the overcoating intervals. Then apply the required number of topcoats of Enamel, depending on requirements.
Non ferrous metals: Previously apply one coat of 804 Multi Purpose Primer or 871 Phosphatizing Wash Primer. To improve adhesion, some light sanding on metal may be necessary.
Other surfaces: Please seek advice.
In all cases: Moderately corrosive atmospheres: 70 - 80 microns.
MAINTENANCE OF PREVIOUSLY COATED SURFACES IN GOOD CONDITION:
If overcoating on well adhered systems, remove grease, oils and dirt (freshwater jet, etc.) Let to dry and apply one or two coats of Enamel, depending on requirements.
MAINTENANCE OF PREVIOUSLY COATED SURFACES IN POOR CONDITION:
If the previous paint system is poorly adhered, it has to be removed by sandblasting up to Sa 2 ½ grade of the ISO 8501-1 standard or, alternatively, by hand or mechanical scraping or brushing up to ST-3 grade of this same standard. Then patch with the suitable primer, preferably by brush, and apply the required number of Enamel coats.