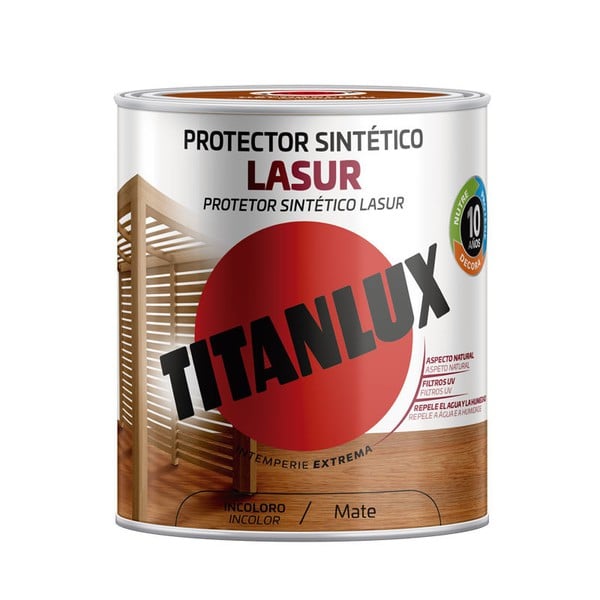 Titanxyl Lasur Colour Matt
Water-repellent
Quick-drying
High resistance to weathering and sun ray damage
UV filters
Breathable and microproous
No sanding is required for maintenance
Very low odour
Delivery at your place
Order phone number 210 008 5999
It is the ideal treatment for the comprehensive protection of wood. Water-repellent, quick-drying, high resistance to weathering and sun ray damage. It contains UV filters.
Intermixable and transparent colours that do not mask the wood natural appearance and enhance its beauty.
Breathable and microproous. It allows the passage of water vapour between the inside and outside of the wood and
protect it from flaking and cracking. No sanding is required for maintenance. Very low odour.
Fields of Application
Ideal for conferring beauty and protection on windows, doors, beams, banisters, overhangs and, generally speaking, on all kinds of wood structures, in joinery work, etc.
DRYING:4 - 8 hours
APPLICATION METHODS: Brush
Finish:Matt
Carefully stir the contents in the pack. The woods to be treated have to be clean, dry and free from any previous coat of varnish
or paint. The wood moisture content must not exceed 20%.
A smoother finish may be obtained by running a cloth or dry brush along the graining 15-30 minutes after application.
Resinous or tropical wood: Please refer to the Technical Service.

BARE SURFACES:
Sand the wood following the wood grain. Clean the surface, remove resin or resin secretion and smooth too sharp edges.
Indoors: One coat of TITANXYL Lasur Undercoat plus 1 coat of TITANXYL Lasur Colour of the required shade. Greater contrast is obtained and the wood grain is more highlighted by applying 2 coats of TITANXYL Lasur Colour. If the wood is not highly polished or is very absorbent and a finer, smoother finish is wanted, apply a top coat of Clear TITANXYL Lasur, after light surface sanding of the final coat of TITANXYL Lasur Colour.
Outdoors: One coat of TITANXYL Total Protection and 2 - 3 coats of TITANXYL Lasur Colour of the required shade, satin or matt finish. Darker shades are obtained with more coats of the same colour applied. In order to avoid too dark final shades, once the required shade is obtained, for further coats it is it is advisable to choose a lighter colour among the range of TITANXYL Lasur Colour. When exposed to weathering do not treat wood only with Clear TITANXYL.
MAINTENANCE OF PREVIOUSLY COATED SURFACES IN GOOD CONDITION:
Maintenance of lasur-coated wood: Remove dust and apply TITANXYL Lasur Colour, satin or matt. If you want to avoid too deep shades, choose a lighter colour among the range. Carry out maintenance when you begin to see bare wood, owing to the self-controlled wear effect of TITANXYL. If too much time
has been allowed to pass, there may be large patches of surface without colour and the wood may begin to look dried out. If this is the case, even out the colour with sandpaper and treat as a new surface
MAINTENANCE OF PREVIOUSLY COATED SURFACES IN POOR CONDITION:
It is essential to entirely remove the dried out, greyed surface by sanding or surfacing thoroughly until the wood in good condition is exposed. Then treat like new wood.