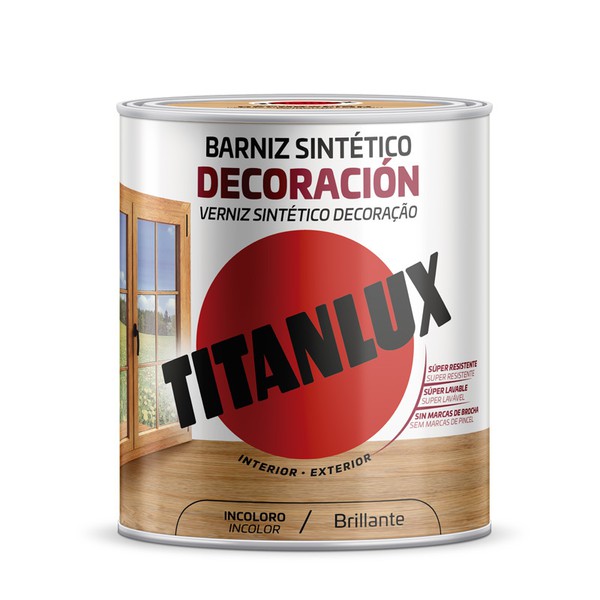 Titanlux Varnish Stain for Wood Gloss Finish TITAN
High solid content
Wash resistant
Tough and elastic
Delivery at your place
Order phone number 210 008 5999
Synthetic varnish stain for wood. High solid content. Wash resistant, tough and elastic. Formulated with transparent pigments which act as an UV filter that improves resistance to outdoor conditions.
Fields of Application
For indoor and outdoor use. For staining, varnishing, ennobling, restoring and embellishing all kinds of wood structures:
furniture, doors, cupboards, etc
DRYING:4 - 6 hours
APPLICATION METHODS: Brush, roller and spray-gun
PRESENTATION:1 l, 750 ml, 500 ml, 375 ml, 250 ml and 125 ml.
Finish:Gloss
Stir well in the pack and apply in thin coats, on smooth (sanded), clean, dry surfaces. Lightly sand between coats.
The wood moisture content must not exceed 12% in hard wood and 15% in soft wood.
Tropical or resinous wood: Please refer to the Technical Service.
BARE SURFACES:
Sand the wood following the wood grain. Clean the surface, remove resin or resin secretion and smooth too sharp edges. The more porous and absorbent the wood is, the more its grain is highlighted on applying the varnish-stain and the darker it becomes. If you want to tone down contrasts and obtain more uniform softer shades, apply a first coat of clear varnish-stain. Darker shades are obtained with more coats of the same colour applied.
Indoor wood:
If the required shade is obtained with the first coat and a more glossy finish is wanted, apply one coat of Clear Varnish Stain.
Outdoor wood:
Apply a first coat of TITAN Protector and finish with 2 - 3 coats of Coloured TITANLUX Varnish-Stain. If the required shade is obtained with the first coat, apply 1 or 2 coats of a lighter shade. By doing this, more resistance is obtained to outdoor condition than if only clear were applied instead.
MAINTENANCE OF PREVIOUSLY COATED SURFACES IN GOOD CONDITION:
Wash, lightly sand and directly apply TITANLUX Varnish Stain. If it is required to enhance wood grain, all previous varnish coats will have to be removed until reaching bare wood. For maintenance work, and in order not to obtain a too dark final shade, it is advisable to choose a lighter colour among the range of TITANLUX Varnish Stain.
MAINTENANCE OF PREVIOUSLY COATED SURFACES IN POOR CONDITION:
Remove unsound or resinous previous varnish coats and proceed as for unvarnished wood.