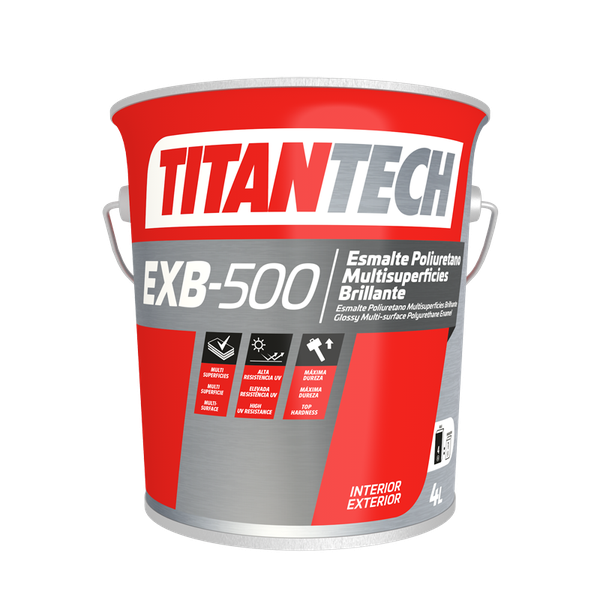 Polyurethane Enamel Gloss 844 TITAN
Good adhesion on different non ferrous metals and on certain galvanised surfaces
Delivery at your place
Order phone number 210 008 5999
Base to be tinted with the TITAN Servicolor System. Two-pack polyurethane based on an acrylate and a an aliphatic isocyanate. Excellent resistance to weathering, and good resistance to yellowing and gloss. Good adhesion on different non ferrous metals and on certain galvanised surfaces.
Fields of Application:
Steel structures, machines and industrial equipment. Excellent durability and appearance. It can also be directly applied on polyester reinforced with glass fibre
DRYING:3 - 4 hours
APPLICATION METHODS: Brush, Roller, Air Spray-gun, Airless (The data quoted are only hints)
Finish:Gloss
GENERAL REMARKS:
Carefully stir the product in the pack, preferably with a mechanical shaker. The surfaces to be painted have to be clean, dry and sound, as well as free from dust, grease and oil. Once ready, wait 10 - 15 minutes before using the mixture in order to help to remove air bubbles.
BARE SURFACES:
Steel, iron, wood, aluminium and non-ferrous light alloys: Prime with Anti-rust Epoxy 831 or 832 Epoxy. In case of non-ferrous metals, they can be also prepared with one coat of 871 Phosphatizing Wash Primer.
Galvanised iron: Degrease and directly apply one coat. Repaint according to instructions of the present technical sheet. Depending on the galvanised type, it will be necessary to open pores.
Polyester: Degrease with 874 Thinner, and directly apply one or two coats.
Other surfaces: Seek advice.
In all cases, the topcoats will have to be:
Moderately corrosive atmospheres: 35 - 50 microns
Highly corrosive atmospheres: 50 - 80 microns
MAINTENANCE OF PREVIOUSLY COATED SURFACES IN GOOD CONDITION:
If overcoating on well adhered systems, remove grease, oils and dirt (by freshwater jet, solvent etc.) Let to thoroughly dry and apply one or two coats of 843 Polyurethane Enamel, depending on requirements.
MAINTENANCE OF PREVIOUSLY COATED SURFACES IN POOR CONDITION:
For poorly adhered systems and/or showing rust, remove them by brushing or scrapping. Patch with a suitable primer, preferably by brush, and apply one or two coats of 843 Polyurethane Enamel, depending on requirements. In highly or extremely highly agressive environments (C4 or C5 according to EN ISO 12944 ISO INE) an intermediate coat of 832 Epoxy Primer will be required, before finishing with 843 Polyurethane Enamel